CEO Dan Shephard was in the press this month in part because he's so committed to testing Geomelt De-icing Products made with Ontario beetroot juice.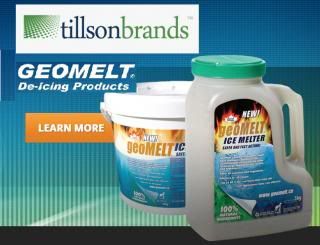 The Snowmen all love eating red beets, boiled and peeled, picked fresh from the garden in the summer. Red beet tops are delicious when steamed and served with a little butter, malt vinegar and a dash of salt. Turns out concentrated red beet juice and salt is a terrific all natural de-icer too; it turns falling snow into red puddles of water that won't freeze.
This unique Canadian product is composed primarily of beetroot extract which has a very low freezing temperature. When combined with sodium chloride it could be the greatest all natural deicer solution for streets and sidewalks ever discovered.
Dan Shephard, the CEO of The Snowmen has gone public with his plan to use the natural de-icing product this winter, from November 2013 to until march 2014. Dan hopes to test the efficacy of the mixture on pavement in all climate conditions, and also get feedback from consumers and chart their reaction to the all-natural mixture.
Red beets are a rich source of the element boron and potassium, and the chemical compound Betanin, found in great quantities in red beets, is the world's most popular red food colorant. This powerful red dye is quite safe for human consumption and is added to a great many processed foods to improve their colour and flavour. Concentrated doses are used in tomato paste, and canned spaghetti sauce. Its also used to make the color red in many sugary desserts, jams and jellies, ice cream, sweets, and breakfast cereals. Beetroot dye is also used to make red ink.
Beetroot juice is added to rock salt, the reddish brown liquid makes the salt crystals stickier and lowers the mixture's freezing temperature which makes the compound more effective on snow days. Commuters driving on roads sprayed with Geomelt could experience fewer delays behind salt trucks and snow plows because in all likelihood the equipment would only have to make the run once per day.
Experts believe that this could yield a vast reduction in the use of rock salt on Ontario roads and that would mean a healthier landscape around this provinces more ecologically sensitive areas. This is Dan's worthy goal and we'd like your help – sign up below in the comments to be included in testing this and other green snow removal innovations.
Post by Robert Campbell on Aug 31, 2013